SPREADING THE WORD
With music and the spoken word at the heart of the celebration, the modern church has evolved to embrace audio, video and broadcast technology rivalling a major live events venue. The core qualities of full-range, high-output sound from compact, light-weight cabinets makes NEXO the natural choice for houses of worship.
NEXO Systems in Houses of Worship
An optimised balance of high performance and discreet visual impact make NEXO systems an ideal choice for installations in houses of worship. The facility to mix cabinets from different systems – all powered by NEXO's combined amplification and DSP control solutions makes it possible to configure systems that deliver consistently even coverage across the congregation, even in difficult acoustic environments, while compact form factor and custom colour options help cabinets blend discreetly into the space.
St Mary's Cathedral, Oregon, USA
Capacity: 500. Featuring: GEO M6, ID Series
Arrays of white hand-painted M6 cabinets are almost invisible in the roof space of this important church.  "the unique M6 high-frequency horn focusses the sound like a laser beam on the seating areas alone.  This produces a very big and very clear sound from a very small package." – Devin Sheets, design and installation company Alpha Sound.
More
Bethlehem Church, Gothenburg, Sweden
Capacity: 800. Featuring: GEO M6
Acoustics are often a tough challenge in a church building.  "Every seat in the whole church must enjoy the same sound and we have managed to achieve that. In fact, there is only 2 dB between the highest and lowest points in the whole church, which is a very, very good result." Björn Carlsson, design and installation company Tech 4 Events.
More
Enjoy Church, Melbourne, Australia
Capacity: 1,800. Featuring: STM Series as main PA, PS8
One of the great characteristics of the STM system is its perceived 'near field' sound. This extends to the furthermost corners of the wide and deep auditorium area, giving the listener the impression that they are very close and drawn to the action.  STM's modularity means it can change and expand really easily. "It really is the Lego of speaker systems. We can simply add more STM cabinets of any form to the system to further extend the value of the investment." – Nick Burns, installation company Forefront Productions.
More
Let us help you design your system
NEXO's Engineering Support team spans the globe, working in partnership with architects, designers and acousticians to design sound systems for installations of every scale.
System Design Enquiries
Find your local NEXO partner
NEXO systems are distributed by a network of 50 independent distributors worldwide, each chosen carefully for their expertise and ability to provide high levels of technical and customer support.
Find NEXO partner
Register for NEXO training
NEXO Online Training Sessions are the perfect way for sound professionals, installers and students to learn about acoustic principles and access specific NEXO system training, covering everything from system design and deployment through to system installation. NEXO is approved by Avixa as an RU provider so Renewal Units are earned for successfully completing the seminars.
Register for training
GEO M
Powerful and flexible, the NEXO GEO M Series incorporates three systems that share the same sonic characteristics, utilising unique and patented NEXO technologies to achieve extraordinary levels of performance from compact, lightweight cabinets. Integral rigging and a comprehensive range of accessories make it easy to deploy GEO M systems in houses of worship, and versatility is further enhanced by variable horizontal and vertical coverage options and a range of partner sub bass modules.
More
P+ Series
With its elegant, curved cabinet designs, variable HF coverage and comprehensive range of mounting accessories, the P+ Series provides the perfect compact, high power point source system that looks as good as it sounds.
More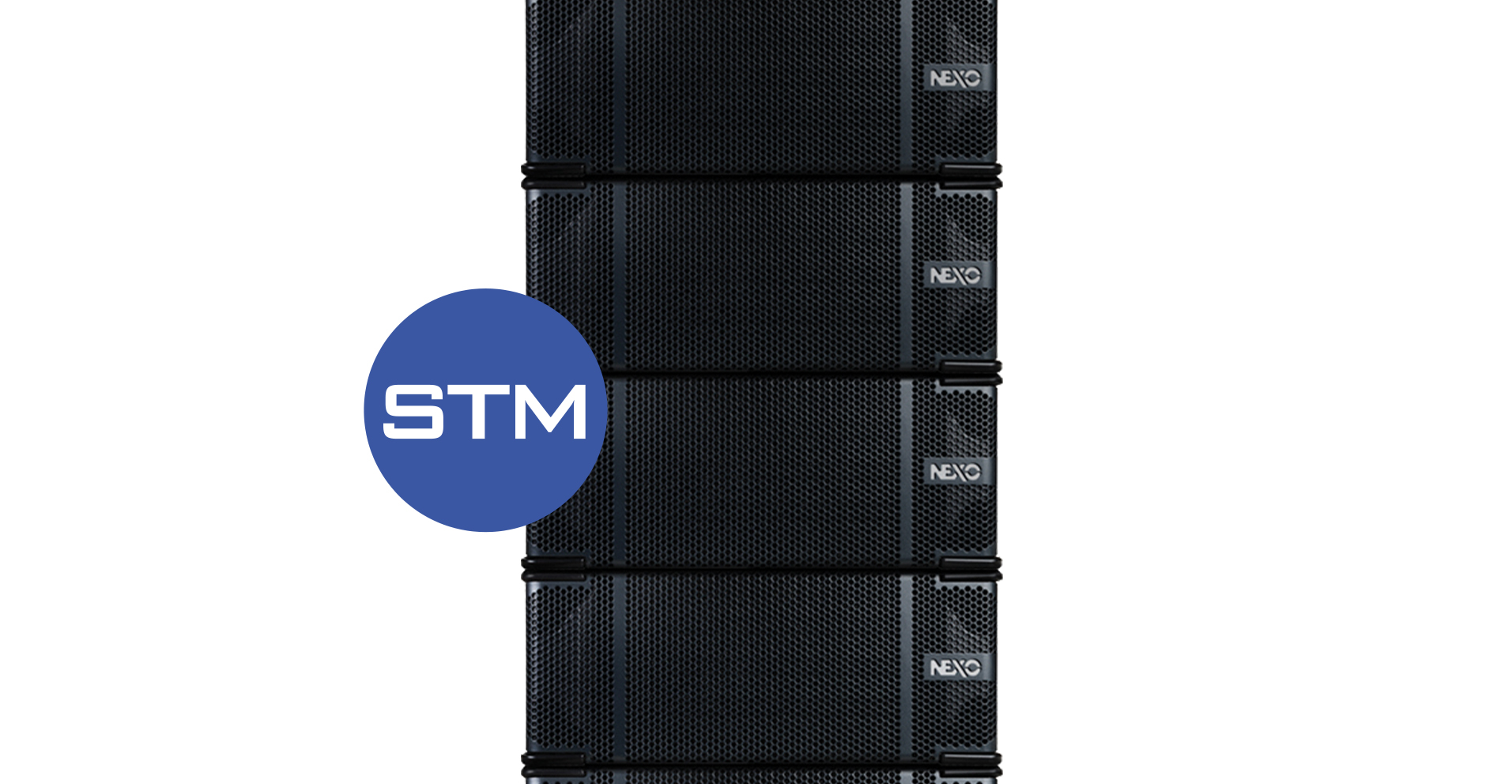 STM
Comprising Main, Bass, Sub and Omni modules of consistent width and with true modularity at the heart of its philosophy, STM provides building blocks for the ideal sound reinforcement system.
More