THRILLING THE DANCE FLOOR
At the heart of a great club, there has to be a great sound system. With a hard-earned reputation for high-output, compact size and ultra-dependable 7 night-per week reliability, NEXO sound systems fill dance floors right around the globe and are often insisted upon by many of the world's leading DJs, for both front of house systems and their own personal monitoring solutions.
NEXO Systems in Clubs
Powerful, dynamic sound, cost-efficient networkable amplification and processing and flexible rigging and mounting options make NEXO the choice of sound system for clubs the world-over. From the compact, high-output P+ Series to the mighty STM, there's a NEXO system for venues of every size, and the facility to combine cabinets from different ranges ensures consistently high quality sound throughout the venue.
Bal Blomet, Paris, France
Capacity: 250. Featuring: NEXO GEO M6, ID24
A system equally suited to jazz, classical, cabaret, chanson and comedy, it was chosen to provide even dispersion throughout the venue without disrupting sightlines or losing the intimacy of the space. "The M6 arrays are fixed to the back wall, high enough above the musicians not to cause feedback issues.  The installation exploits the design of the M6 system, using six GEO M620s with three of the M6B modules in the middle of the array to provide the bass response." Jean Michel Gache, installer Nanolink.
More
Jolly Joker, Istanbul, Turkey
Capacity: 2,000. Featuring: NEXO STM Series, 45°N-12 line monitors, PS15, LS18
With a busy rota of live performers on the Jolly Joker stage, the choice of stage monitors was especially important. "The 45°N-12s came out top of the competitive tender for their power, clarity and ease of use. The angle of coverage played a big part in the decision. I pointed the microphone towards the monitor, as most singers do, and no feedback squeal came out of the 45°N-12." Eren Öztürk, Jolly Joker audio engineer.
More
Zepp, New Taipei, Taiwan
Capacity:  2,250. Featuring: STM Series (M46, B112, M28, S118) for main PA, GEO S12 and LS18 for sidefill, GO M10 for front fill, P12 and PS15 for stage monitors.
"STM is the ideal choice for the venue.  In addition to being modular, the STM is a very directional system that can be easily controlled to target the audience without dispersing onto different surfaces. When we need to reconfigure the existing seven-cabinet hang, we simply lower the rig before uncoupling each STM module onto a dolly for redeployment when required." Tsai Tsung Che, Audio System Division Manager for installer NineTai Audio.
More
Let us help you design your system
NEXO's Engineering Support team spans the globe, working in partnership with architects, designers and acousticians to design sound systems for installations of every scale.
System Design Enquiries
Find your local NEXO partner
NEXO systems are distributed by a network of 50 independent distributors worldwide, each chosen carefully for their expertise and ability to provide high levels of technical and customer support.
Find NEXO partner
Register for NEXO training
NEXO Online Training Sessions are the perfect way for sound professionals, installers and students to learn about acoustic principles and access specific NEXO system training, covering everything from system design and deployment through to system installation. NEXO is approved by Avixa as an RU provider so Renewal Units are earned for successfully completing the seminars.
Register for training
P+ Series
Compact, powerful and uniquely versatile – thanks to an ingenious system for varying HF dispersion, the P+ Series is ideal for configuring club systems with high quality sound throughout the venue. A comprehensive range of rigging and mounting accessories enables a huge variety of installation options, while dedicated subs for each of the 4 main cabinets ensures the thrilling low end performance that's so important to a successful club.
More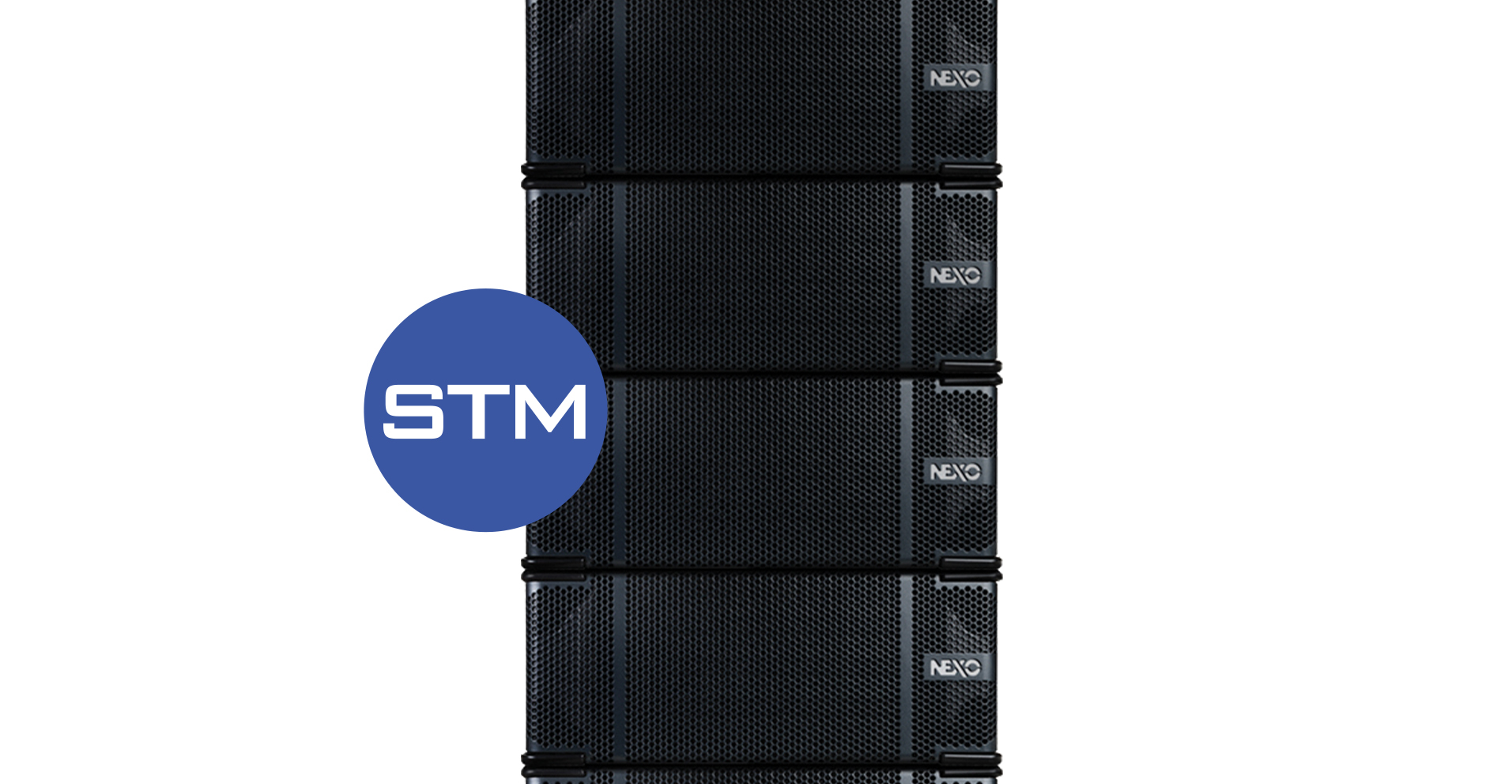 STM
The first choice of many high-profile DJs, this truly modular system can be configured in compact groundstacks or flown in arrays to create the ultimate in high-powered sound systems. The STM system comprises 4 proportionally-sized modules from which systems of any size and scale can be configured and the  'Scale Through Modularity' concept continues through a comprehensive range of accessories that make it simple to configure and deploy systems of a appropriate size for every venue.
More
NEXO Subs
Compact and powerful, NEXO subs combine directional control with high levels of versatility. NEXO power and processing solutions feature phase-linear presets for all NEXO subs, and flexible rigging makes deployment easy in ground-stacked or flown systems.
More