Power & Processing
NEXO Power and Processing devices feature presets for all NEXO cabinets, making it easy to configure amplification solutions for single or mixed cabinet systems. Amplification options range from the 1U DTDAMP – ideal for smaller PS and ID Series systems – through to the mighty NXAMP and NUAR rack which provide power and processing in a convenient and scalable form factor to large, touring STM systems.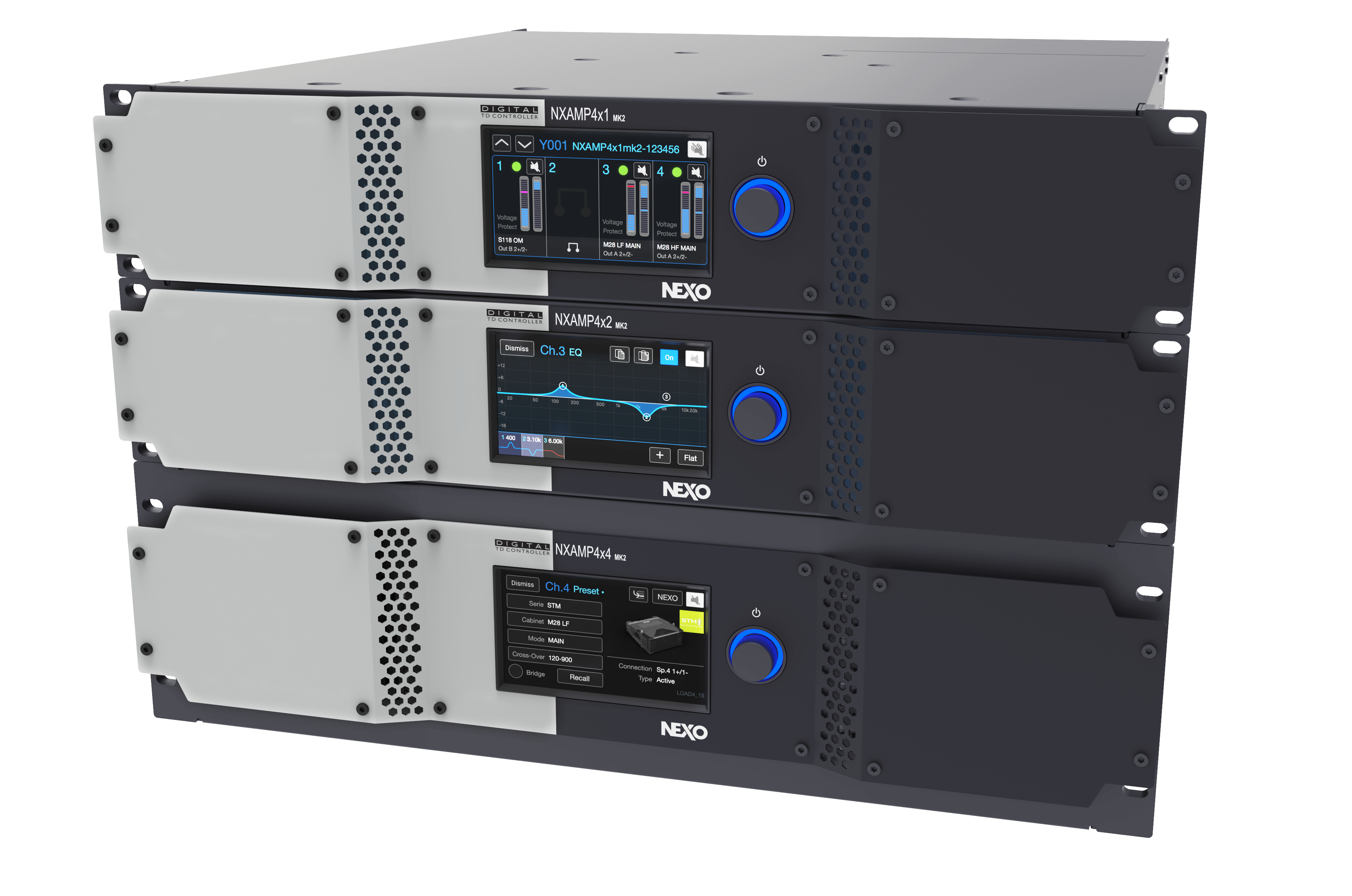 NXAMPMK2
Available in 4 X 1300 Watts, 4 X 2500 Watts and 4 X 4500 Watts versions, the NXAMPMK2 combines advanced signal processing with state-of-the-art four channel Class D amplifiers to create a flexible, light-weight powering and control solution for NEXO loudspeaker systems.
NXAMP4X4
The NEXO NXAMP4X4 Powered TD Controller is amongst the most powerful amplifiers in the industry, integrating command, control, networking, amplification and protection functions in a relatively light weight, space-saving 4U rack.
NUAR
The NEXO Universal Amp Rack (NUAR) provides NEXO users with a scalable, 'plug & play', amplified audio distribution solution of unrivalled power and flexibility. Systems of any size can be configured easily using channel by channel preset selection of any NEXO cabinet, and digital output patching.
More
DTD
Available in touring and install versions, the DTD Digital TD Controller partners perfectly with the NEXO DTDAMP to create a compact, powerful and intelligent power solution for NEXO ID and PS Series systems. The DTD delivers advanced speaker control processing taken from the NEXO NXAMP in a compact, rack-mounting device, providing sophisticated control over crossover, EQ and time-alignment along with speaker protection.
DTDAMP
Ideal for powering mobile or fixed installations of NEXO ID and PS Series systems, the 4-channel, 1U rack-mounting DTDAMP is available in two versions: 4 x 700 Watts and 4 x 1300 Watts (4 x 4 Ohms). The DTDAMP partners perfectly with the touring and install versions of the DTD Controller to create a compact, light-weight, intelligent powering solution that's easy to configure – either in a 'dry hire' application where the user has limited knowledge, or in a fixed installation such as a bar or club.

Network Cards
NXAMPs and NUAR racks can be pre-configured with EtherSound, Dante or AES digital audio networking cards.
DMU
The DMU enables easy monitoring of all activity on theNXAMP or NXAMPMK2's audio inputs, with signal and power supply coming from the amplifier's GPIO port. Front panel features include four analogue XLR inputs plus links, three RJ45 ports for digital audio networking and LED VU meters.
DMU
DPU
The DPU optimises the NXAMP or NXAMPMK2's channel by channel preset selection by automatically routing its outputs to any of six output connectors on the DPU front panel. Cabinet names and bridging status are displayed alongside each output, making it easy to wire the system.
DPU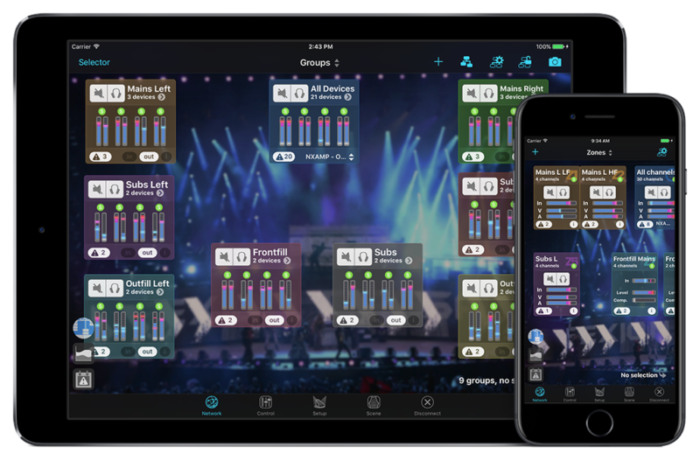 NEXO NeMo
NEXO NeMo is the system management software from NEXO. It allows you to control from a tablet or smartphone through a Wi-Fi network and from a desktop computer through a wired or Wi-Fi network one or many NEXO Devices (NXAMP Powered TD-controllers, DTD Digital TD-controllers). Managing and positioning devices, monitoring their parameters (levels, etc.), and setting new values (preset, volume, delay, EQ, etc.) is made possible thanks to an attractive and intuitive user interface. NEXO NeMo also comes with a powerful engine for logging and alerting.
More
NEXO Dory
Available for free on Google Play (for Android device) and on NEXO website (for Mac and Windows devices), NEXO's Dory Software provides remote control of NEXO Digital TDcontroller (DTD) through USB port.
More