Innovation
What separates NEXO from its competition is its innovative, integrated systems approach to loudspeaker research and development. The company's R&D mission to innovate is acknowledged in the form of numerous patents, some of which are included here.
The HRW Hyperbolic Reflector Waveguide
Conventional speakers cannot be coupled in the high frequency range if not generating a continuous wavefront along the height or the width of the enclosure. HRW waveguide converts the spherical wave front generated by a high frequency compression driver into a flat or convex wavefront by means of an acoustic reflector. It allows speaker cabinet acoustical coupling without interference up to 20 kHz, with inter-cabinet angle sequences ranging from 0° up to 30° or more. Used in GEO M620, GEO S1210 and S1230, STM M28 and M46 cabinets.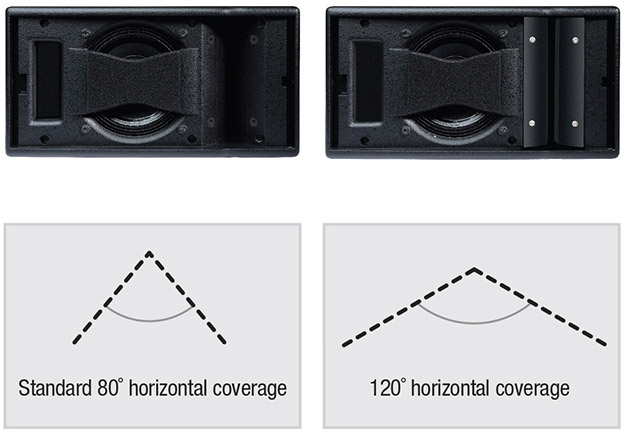 The CDD Configurable Directivity Device
CDD flanges are superposed to a horn or a waveguide to modify its dispersion characteristics. The same speaker cabinet reference can therefore produce a wide range of directivity features, from 80° or (narrow coverage needed at long distances) less to 120° or more (wider coverage needed at short distances). Used in GEO M620, GEO S1210 and S1230, STM M28 cabinets.
The PDD Phase Directivity Device
Coupled direct radiation drivers will interfere when the distance between them exceeds half a wavelength, which sets a strong constraint on cross-over frequency to high frequency drivers (these are very likely to distort below 1 kHz). The Phase Directivity device splits the radiating surface of the driver in 2, thus dividing by 2 the acoustic distance between coupled devices. Consequently, the cross-over point to high frequency driver can be increased by one octave, and distortion in the mid-frequency range significantly reduced. Used in GEO M620, GEO S120 and S1230 cabinets.
The NEXO Vent
Vented enclosures are used to extend low frequency response. At cabinet tuning frequency, the entire acoustic energy is radiated by the vent. However, a conventional vent also radiates higher order harmonics which are detrimental to on-axis frequency response and directivity consistency. These harmonics are absorbed by creating a slot into the vent the depth and shape of which has to be carefully modelled. Used in STM M28 and M46 cabinets.
RS Technology
Subwoofer cabinets are usually exclusively omnidirectional or cardioid. When cardioid pattern is needed, it requires a specific cabinet design, or arranging various cabinets into front/rear configuration. Additionally, LF cardioid patterns are detrimental to efficiency. RS Technology allows the use of a single and unique cabinet to produce omnidirectional pattern (the 2 low frequency drivers are set frontwards, and fed with the same audio signal) or directional pattern (the cabinet is rotated by 90°, and front and rear LF drivers are fed with 2 different audio signals). Used in the RaySub subwoofer RS15 and RS18 cabinets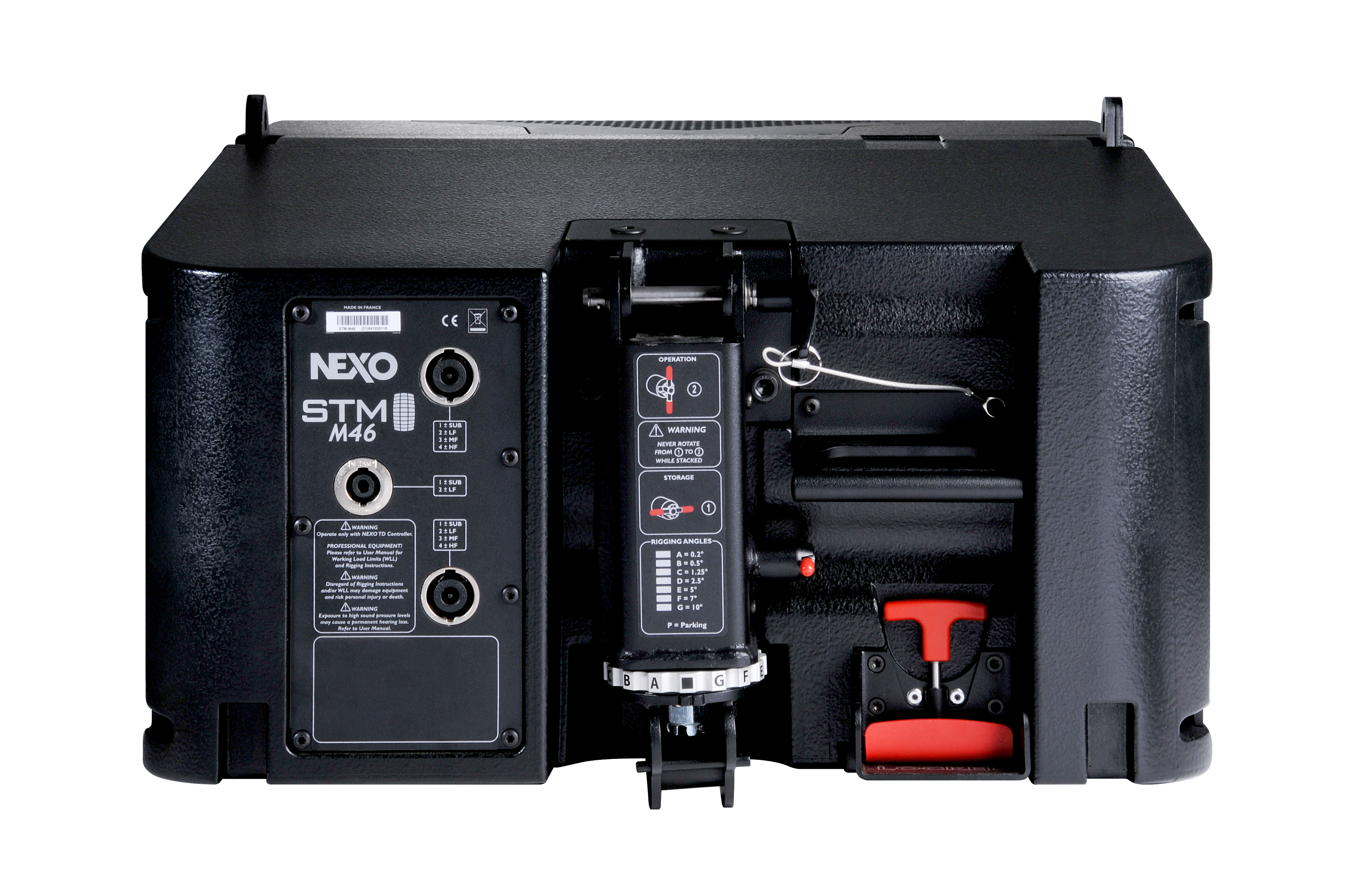 Piston Rig and Red Lock
Significant time is spent assembling and disassembling speaker system in columns. Usual systems require 4 connection points locked with quick release pins at the front and the back of the cluster. Red Lock is a mechanical system that allows cabinets to be locked together with a simple handle located at the back of the cabinet (no quick release pin). Piston Rig presets the inter-angle configuration, and is located just next to the Red Lock. The combination of both centralizes all rigging operation on one location. Used in STM S118, B112, M28 and M46 cabinets.